Irish Westerns, Vol. 1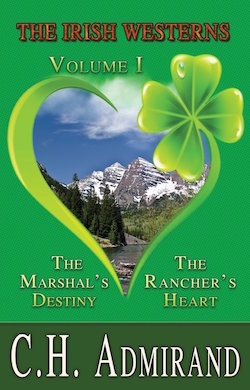 Books 1 & 2
For those of you who prefer holding a book in your hands, C.H. has bundled her the first two books of her bestselling historical Irish Western Series in this volume:
The Marshal's Destiny, Book 1
Irish-born Margaret Mary Flaherty leaves New York City for Colorado carrying the signed proof her brother needs to keep greedy landowners from stealing his ranch. Joshua Turner, U.S. Marshal, is headed to Colorado to investigate charges of cattle rustling and land fraud.
The Rancher's Heart, Book 2
James Ryan's peaceful existence turns upside down the night he catches young Mick O'Toole trying to rustle his cattle. Running from a dark past of his own, Ryan agrees to take the boy and his ailing widowed mother in.