Love At The Las Vegas Bake-Off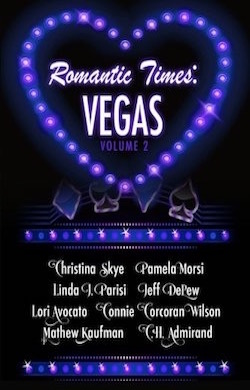 Romantic Times Vegas, Vol. 2
The Excelsior Hotel and Casino. Built in Las Vegas in 1960 by mobster Louis "The Lip" LaFica…

For decades the towering hotel has been the subject of incredible stories and rumors that have kept it in the public eye the world around. Why have so many lovers been mysteriously, magically, magnetically drawn to this magnificent edifice? And why now have so many bestselling authors at last come together to reveal the adventures of these lovers who have stayed at the glorious Excelsior?
My contribution is, Love at the Las Vegas Bake-Off.

For fans of my Apple Grove Series, this short story stars Peggy McCormack (who runs the Apple Grove Diner with her sister Kate) and US Marshal Ben Justiss, cousin to those gorgeous Garahans…the Texas Cowboys and the NYC Firefighters. And it all started when Peggy overnights one of her mouth-watering Buttermilk Pies to a certain lawman she can't forget–US Marshal Ben Justiss. When Peggy's life is threatened after entering the Las Vegas Bake-Off, Ben begins to wonder if Peggy's lips are as sweet as her Buttermilk Pie.