Second Chance Ranch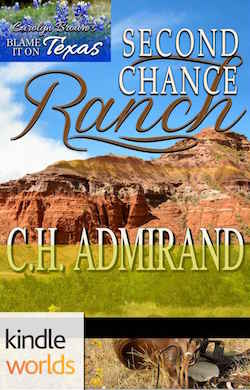 A Blame It On Texas
Kindle Worlds Novella
"C.H. Admirand pours heart and soul into her stories making her characters so real that they come to life on the page." Carolyn Brown, NY Times Bestselling Author
* * *
Tom McNally was a mean son-of-a-bitch when riled. Widowmaker, the last bull he drew, tossed him at seven and a half seconds, then stomped him into the dirt. His broken ribs and sprained wrist need time and a place to heal.
Emily Griffith is looking for a new start after the death of her mother, and finds it in Claude, Texas at the Peabody Diner when her car dies right in front of their help wanted sign.
Chance walks through the door in the form of Tom McNally, a tall, dark and handsome cowboy. Small minded gossips and a hard-headed cowboy threaten Emily's new life in Palo Duro Canyon, but love will triumph in this sweet tale from C.H. Admirand.