I love baking for the holidays. In fact beginning with the half-dozen pies I bake at Thanksgiving every year, second biggest baking challenge is Christmas Cookies.
My Mom always baked fruitcake to give as gifts at Christmastime, but I wasn't really a fan of fruitcake, the batter was pretty tasty (yep, I snuck a taste or two when my Mom wasn't looking) but the baked fruitcake just didn't set my tastebuds to singing.
When I was twelve, I asked my Mom if I could bake a batch or two of sugar cookies to give as presents. She thought it was a great idea and found a recipe in her Regional Cookbook. I've used that recipe along with a few other favorites every year since then.
Whenever I take the Merry Christmas tablecloth out…I look at the stains and see beyond the dark spots to the years of my brother, sisters and I squabbling and spilling and Mom and Dad scolding then smiling as they put out bowls of popcorn or Dad's special cheese dip and chips with Santa's cookies.
Dad's Cheese Dip
1 block of softened cream cheese
1 tbsp minced onions, re-hydrated with hot tap water
Heinz 57 Sauce – a few good shakes
Lays Potato Chips because they were Dad's favorite!
NOTE: Some of my favorite family recipes only include ingredients–no measurements.
In a medium-sized mixing bowl smush the cream cheese with a fork. Add the softened minced onions and mix well. Add a few good shakes of the Heinz 57 Sauce to taste. I like it with more of the 57 Sauce than my sisters do…but that's the beauty of this dip, you can create it to taste.
It never lasts long in our house, and although it is delicious with Lays Potato Chips, it works as a veggie dip, too…but if there are Potato Chips in the house, the dip never, ever lasts long enough to dip those carrot or celery sticks!
Recipe Tip
Don't worry if your cookies don't look perfect, or one of your snowmen or gingerbread bears breaks an arm or leg…chances are pretty good that everyone will remember how delicious they were.
Enjoy!
Slainte'
C.H. Admirand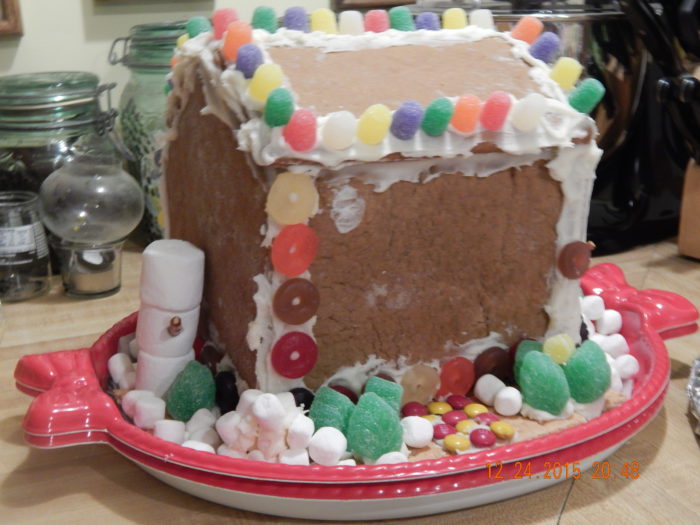 Here's a pic from last year…my first ever attempt at baking and the building a Gingerbread House. Not quite an epic-fail, and certainly not pretty, but it was tasty and the candies disappeared slowly but surely until our darling grandsons went home. ;)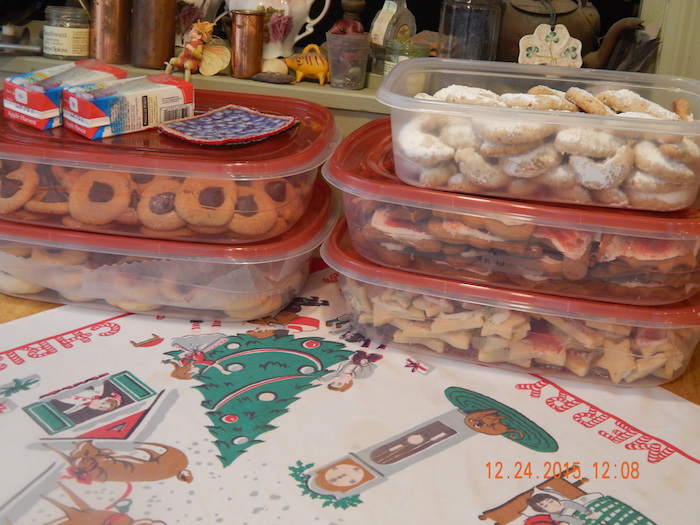 Here's a pic of some of the Christmas Cookies I like to bake… peanut butter cookies with kisses on top, raspberry filled cookies, pecan crescent cookies, sugar cookies and gingerbreads on the Merry Christmas tablecloth Mom used to put out every Christmas Eve.